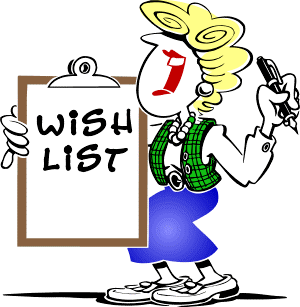 Wish List
When the students Do Their Part they have opportunities to earn DYP tickets. They then have an chance to "purchase" items with their tickets or enter them in a raffle. The school is no longer sponsoring The Part Mart Kart, so the students only have an opportunity to get items in their homerooms or various raffles. Some of the items they have liked buying, and could be used in the classroom, are:





Lifesaver Mints (brain mints)- either Peppermint or Wintergreen




pop (cans - variety)




water bottles/juice boxes




pencil grips




book marks




mechanical pencils




lead for mechanical pencils




gift certificates for Jimanos, Wendy's, etc.





If I find that they like the other items I have for purchase I will add them to the list as well.





Other items that can be used in the room are:



Duct Tape

Masking Tape

Magazine Subscriptions to children's magazines (Sports Illustrated for kids is an example)



Thank you in advance for your generosity!